Jarrell Guitars Endorses Monte Pittman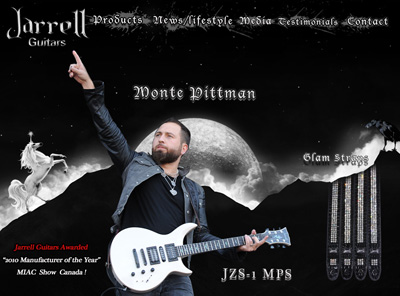 We at Jarrell Guitars are extremely pleased to welcome Monte Pittman, guitarist for Madonna, and Adam Lambert, to our family of talented endorsers.
Monte Pittman, is in the Artist Spotlight at Jarrell Guitars, with full bio, the latest news about Monte and his trail blazing projects. He is on the new October Homepage of Jarrell Guitars.com, and currently playing three Jarrell models, the JZH-1 Flamz Pr, JZS-1 Gold, and newest addition, the JZS-1 MPS Proto type. Jarrell Guitars home page features a soaring solo from (I am) The Black Rabbit, from " Pain, Love and Destiny".
Also, in celebration of the release of his new CD," Pain, Love & Destiny ", which has just been released October 3, 2011, on CD Baby, and i Tunes, Monte Pittman will be performing live at the famed Whisky A Go Go, on W. Sunset Blvd., October 13, 2011.
Monte was interviewed on Friday September 30th, on the "Sheena Metal Experience", when she debuted tracks from the new CD, Monte is also featured in this month's issue of Rising Magazine. (Page 29)
Award winning designer Phillip Jarrell says " Monte Pittman is a multi faceted artist, writer, guitarist, who's new CD "Pain,Love and Destiny" brings forth some of the best new music I have heard in years".
http://www.latalkradio.com/Players/Sheena-093011.shtml

http://risingmag.com/

http://www.cdbaby.com/cd/montepittman12
Contact Info:
Eric de Fontenay

ecfont [AT] musicdish.net

+1-718-278-0662

skype: musicdish